#
Welcome to the San Francisco ISACA Chapter
ISACA Mission Statement: "For professionals and organizations be the leading global provider of knowledge, certifications, community, advocacy and education on information systems assurance and security, enterprise governance of IT, and IT-related risk and compliance"
Follow us on Twitter
Friend us on Facebook
November Educational Event
"Balancing Social Media Risks in the Workplace"
Thursday, November 20, 2014

Registration: 11:30 a.m. – 12:00 p.m.
Session: 12:00 p.m. – 1:30 p.m.

Panel:

David Thomas, Senior Director of Content and Engagement, Salesforce.com

Doug Dexter, Chair of the Employment Law Practice Group, Farella Braun & Martel LLP

Davi Ottenheimer, Senior Director of Trust, EMC

Hotel Nikko San Francisco
222 Mason Street (between Ellis and O'Farrell)
Powell BART

1.5 CPE Hours
$40 ISACA Members
$50 Non-Members
Get more information here
Register here

More info here
Invest in yourself and your future
The International Association of Privacy Professionals (IAPP) is bringing privacy training classes for the Certified Information Privacy Professional/United States (CIPP/US) and the all new Certified Information Privacy Technologist (CIPT) credentials to San Jose this November. IAPP certification is the global privacy standard and now training classes are available in your area. Don't miss this chance to advance your career and increase your earning potential!
November 12-13, 2014
San Jose Marriott
301 South Market Street
San Jose, CA 95113
2014 Fall Conference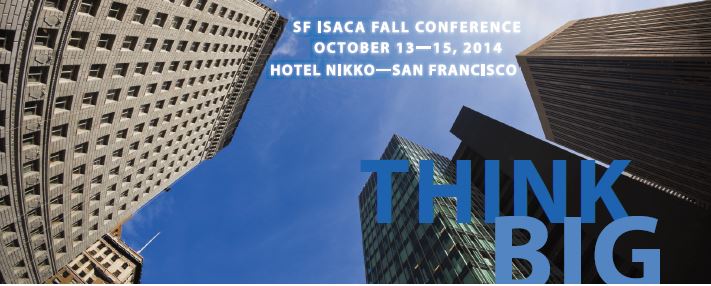 Download Presentations here

SF ISACA 2014 Fall Conference from SF ISACA on Vimeo.

Looking for a job?
Looking to fill an open position?
The San Francisco Chapter benefits from your use of the ISACA International Job Posting System. Learn more HERE!



With more than 115,000 constituents in 180 countries, ISACA® (
www.isaca.org
) helps business and IT leaders build trust in, and value from, information and information systems. Established in 1969, ISACA is the trusted source of knowledge, standards, networking, and career development for information systems audit, assurance, security, risk, privacy and governance professionals. ISACA offers the Cybersecurity Nexus™, a comprehensive set of resources for cybersecurity professionals, and COBIT®, a business framework that helps enterprises govern and manage their information and technology. ISACA also advances and validates business-critical skills and knowledge through the globally respected Certified Information Systems Auditor® (CISA®), Certified Information Security Manager® (CISM®), Certified in the Governance of Enterprise IT® (CGEIT®) and Certified in Risk and Information Systems Control™ (CRISC™) credentials. The association has more than 200 chapters worldwide.
Participate in the ISACA Knowledge Center:
www.isaca.org/knowledge-center

Follow ISACA on Twitter:
https://twitter.com/ISACANews

Join ISACA on LinkedIn:
ISACA (Official),
http://linkd.in/ISACAOfficial

Like ISACA on Facebook:
www.facebook.com/ISACAHQ

Receive ISACA's news releases via email

View ISACA News Release